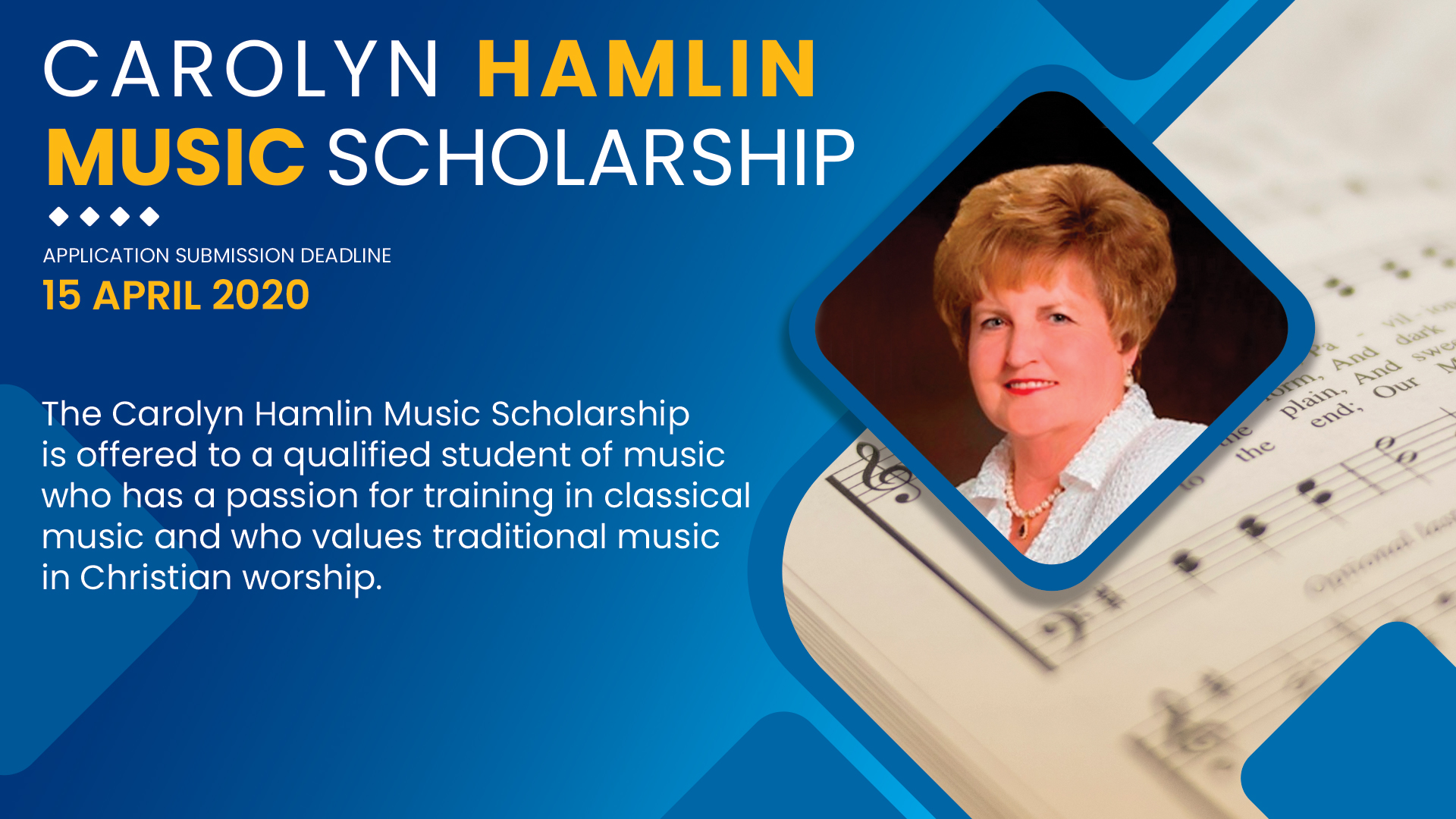 BACKGROUND
Although deprived of formal musical education early in her life, Carolyn Hamlin pursued musical training with a passion. Her hunger for using her gifts to honor God through her church provided the motivation she needed to continue learning, many times, on her own. One of the greatest lessons she learned was to never take no for an answer. The seed money for this scholarship was given in 2008 to honor Carolyn Hamlin's 50th anniversary as organist at First Baptist Church, Easley, SC.
SCHOLARSHIP DESCRIPTION
The Carolyn Hamlin Music Scholarship is offered to a qualified student of music who has a passion for training in classical music and who values traditional music in Christian worship. The intent of the scholarship is to foster affirmation, enrichment and training to a scholarship recipient who is committed to the excellence of traditional church music and who purposes to glorify God through traditional church music.
Winner must provide a social security number and W-9 prior to distribution.
The winner may reapply annually for up to four years.
DEADLINE FOR SUBMISSION
April 15, 2020
AWARDED
On or before May 1, 2020, paid directly to the school or organization of requested attendance (*Committee award prior to May 1st if recipient has financial need)
ESSAY REQUIREMENT
Write an 800-word essay which not only tells about yourself, your musical passions, and perhaps the obstacles YOU may have faced in pursuing your musical training, but also, share how you intend to use music to serve God with the talents and skills He has entrusted to you. Share how you perceive your life unfolding as you aspire to serve him through the local church. Explain how the scholarship will enhance your ability to follow the path you believe God is showing you, whether your pursue music as a full-time or part-time vocation in the local church or as an avocation.
APPLICATION
Click here to download application. It designates an email address within the application where all relevant documents should be sent.