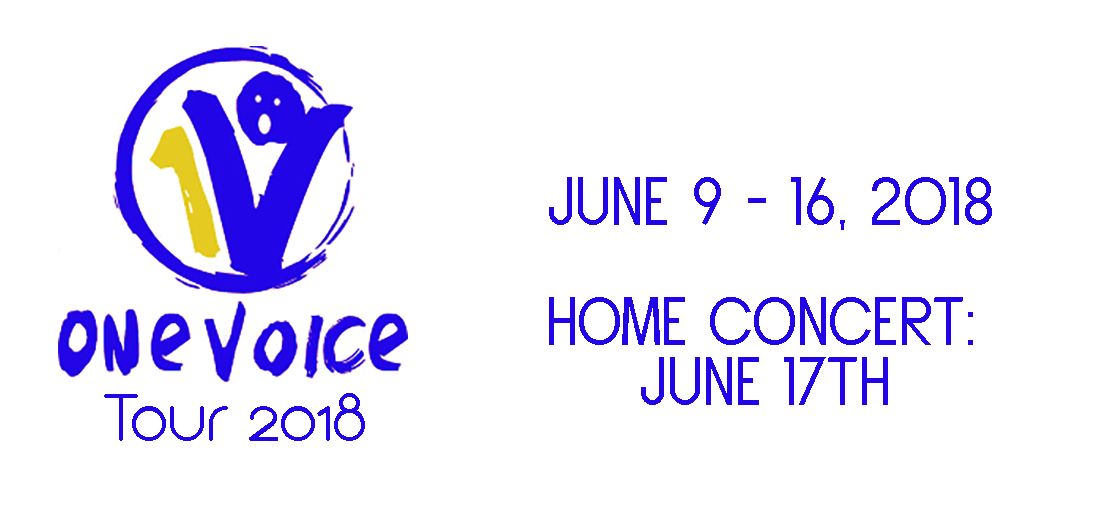 When
June 9-16, 2018
Our Itinerary
See our Full Itinerary for more details.
Map Showing Progression of the Tour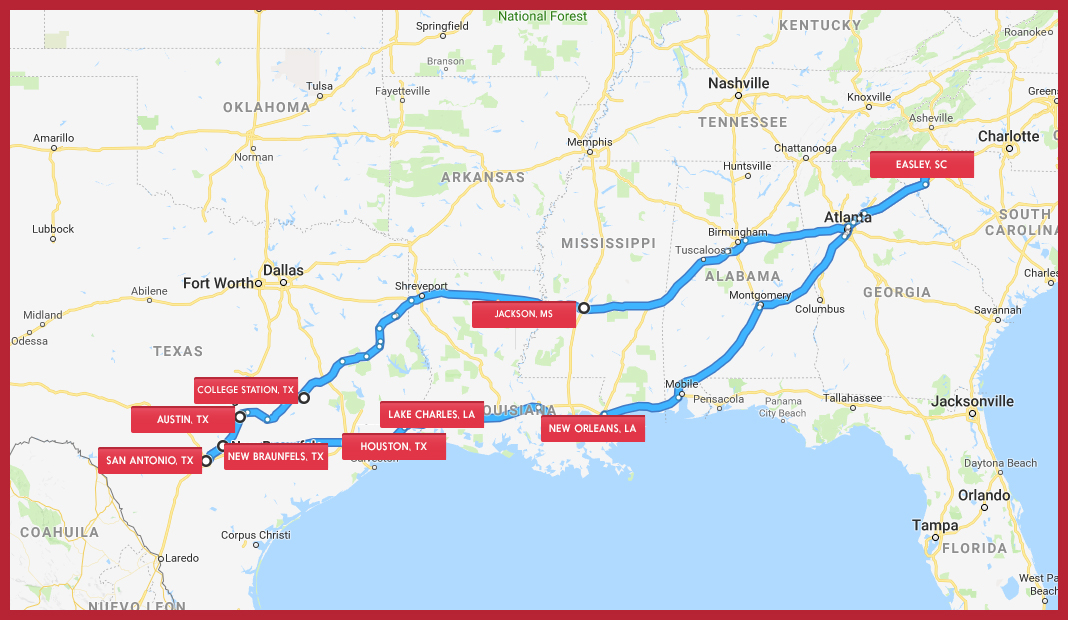 Brief Bio of the Choir
The Youth Choir, One Voice, from First Baptist Church, Easley, SC is a 45-voice mixed choir under the direction of Chris Clark and Rick Baumgarner. The choir will be touring with 41 singers this summer in New Orleans, LA; Lake Charles, LA; Houston, TX; New Braunfels, TX; Deer Park, TX; San Antonio, TX; Austin, TX; College Station, TX; and Jackson, MS.
One Voice is comprised of students in grades 6-12 who attend seven different schools, but all attend First Baptist Church, Easley, The choir leads regularly in worship services at the church, attends regional choir festivals, and tours each summer. In recent years the choir has toured through SC, NC, VA, TN, GA, AL, MS, LA, KY, OH, WV, NC, PA,Washington, DC, IN, Il, and MD..
Description of the Tour
This is One Voice's ninth annual summer tour in recent years. This year 41 singers and 9 chaperones will be sharing God's love through music in New Orleans, LA; Lake Charles, LA; San Antonio, TX; College Station, TX; and Jackson, MS.
In addition to singing in the morning worship service at First Baptist Church in Chalmette, LA, the choir will be presenting a musical program entitled, One Voice. The program tells the story of God's inclusive love demonstrates that this is the way He intended us to relate to one another. Through choral music, drama, narration, choreography, and video, the students share the Love of God and His power to transform our society. Students themselves have written and directed the drama. We are truly called to be ONE people, speaking with One Voice!
The choir will also be helping to combat hunger by working with the Houston Food Bank on Monday morning. The choir will also be singing at "one of the oldest continuously serving cathedrals in the United States:" San Fernando Cathedral. In addition, the student musicians and actors will be leading worship in Baptist churches, Methodist churches, Non-denominational churches, and Catholic churches in LA, TX, and MS
Synopsis of the Musical Program
As we began developing an outline for the musical program this year, we began to ask what the world would look like if we lived our loves with Christ as Lord. How would THAT effect the way we related to one another. What would that do in terms of the hot issues we hear so much about in the news. If we listened to the voice of God and allowed HIM to speak through us, it would change everything. Seeing God as the center of our lives allows us, in fact, demands that we look past so many things that divide us. When we submit to Christ and allow the Holy Spirit to speak and live through us, the world sees what it should see: the all compassing love of God the Creator. Let us then join together to speak and live the Love of God in unity with One Voice!
List of Songs in Musical
One Voice - (recorded by The Wailin' Jennys)
Siyahamba (Zulu Song; ed. Doreen Rao)
Esto Les Digo (Kinley Lange)
Creation of Peace (Mark Miller)
Orphans of God (Joel Lindsey/Twila LaBar)
I Will Be a Child of Peace (Elaine Hagenberg)
One Song (Pepper Choplin)
Many Gifts, One Spirit (Allen Pote)
One Voice Choir Tour DVD
There will be a DVD of the One Voice Choir Tour presentation that will be recorded at EFBC on Sunday, June 17 during the 10:15AM Worship Service. We will be selling them for $15 per DVD.
This Year's Ministry Challenge
The students adopt a tour mission project each year and our ministry challenge for the One Voice Tour is to raise enough money to fund one slavery rescue operation through International Justice Mission. With over 45 million people in slavery and bondage around the world, all money received will go to support IJM's mission of rescuing victims of injustice and slavery, bringing criminals to justice, helping to restore survivors, and strengthening the justice systems in the developing world. Our tour goal is to raise $6300, the cost of one slavery rescue operation. Will you help? Click here to donate. Scroll down to find IJM(One VoiceChoir Tour) to donate!
Daily Devotions
Churches/Non-Profits Where We Will Be Singing
Related Websites
Check out photos and videos of the tour day by day!
Day 1 - Saturday, June 9th
Day 2 - Sunday, June 10th
Day 3 - Monday, June 11th
Day 4 - Tuesday, June 12th
Day 5 - Wednesday, June 13th
Day 6 - Thursday, June 14th
Day 7 - Friday, June 15th