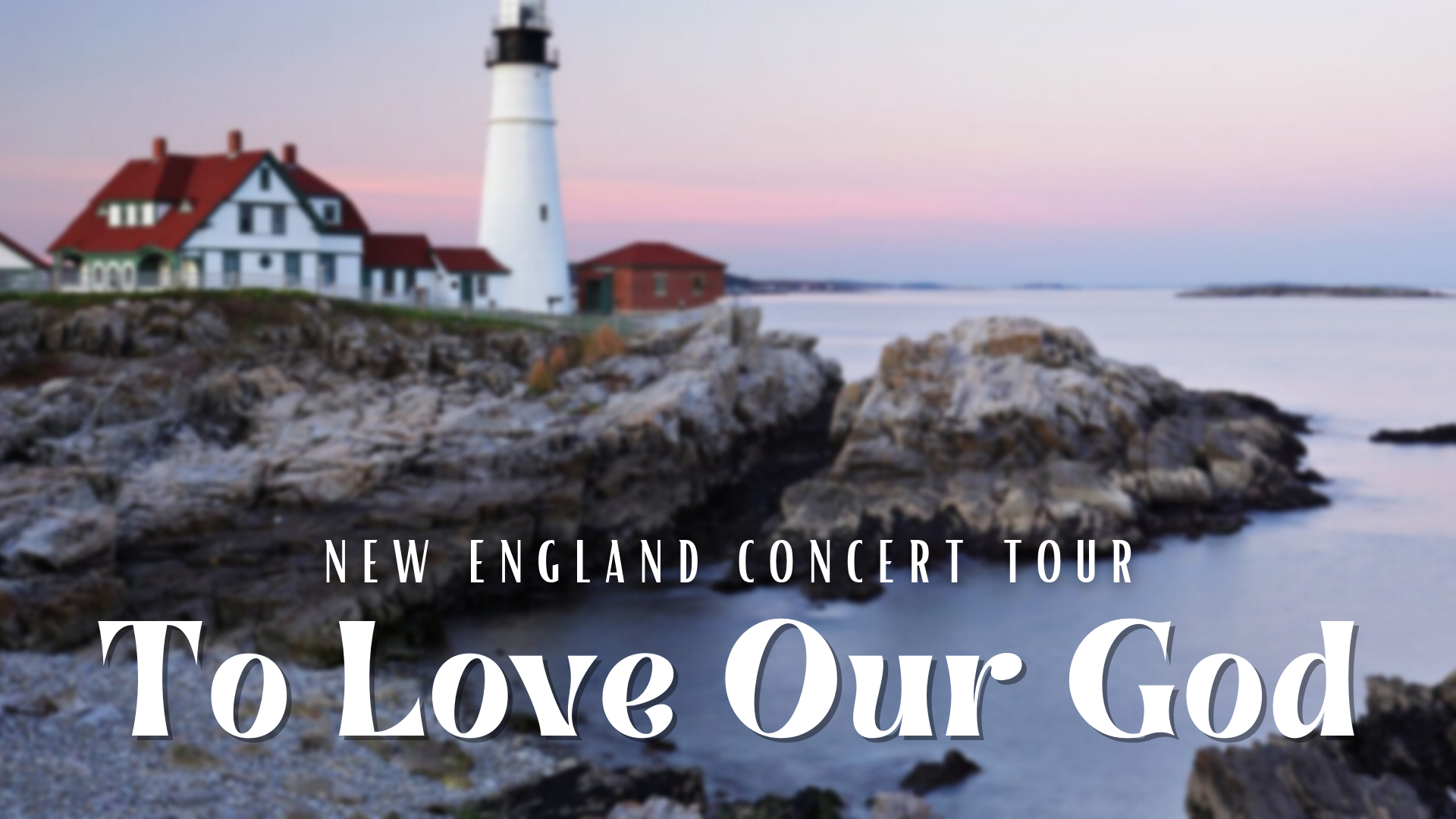 When
June 11-22, 2022
Our Itinerary
See our Full Itinerary for more details.
Map Showing Progression of the Tour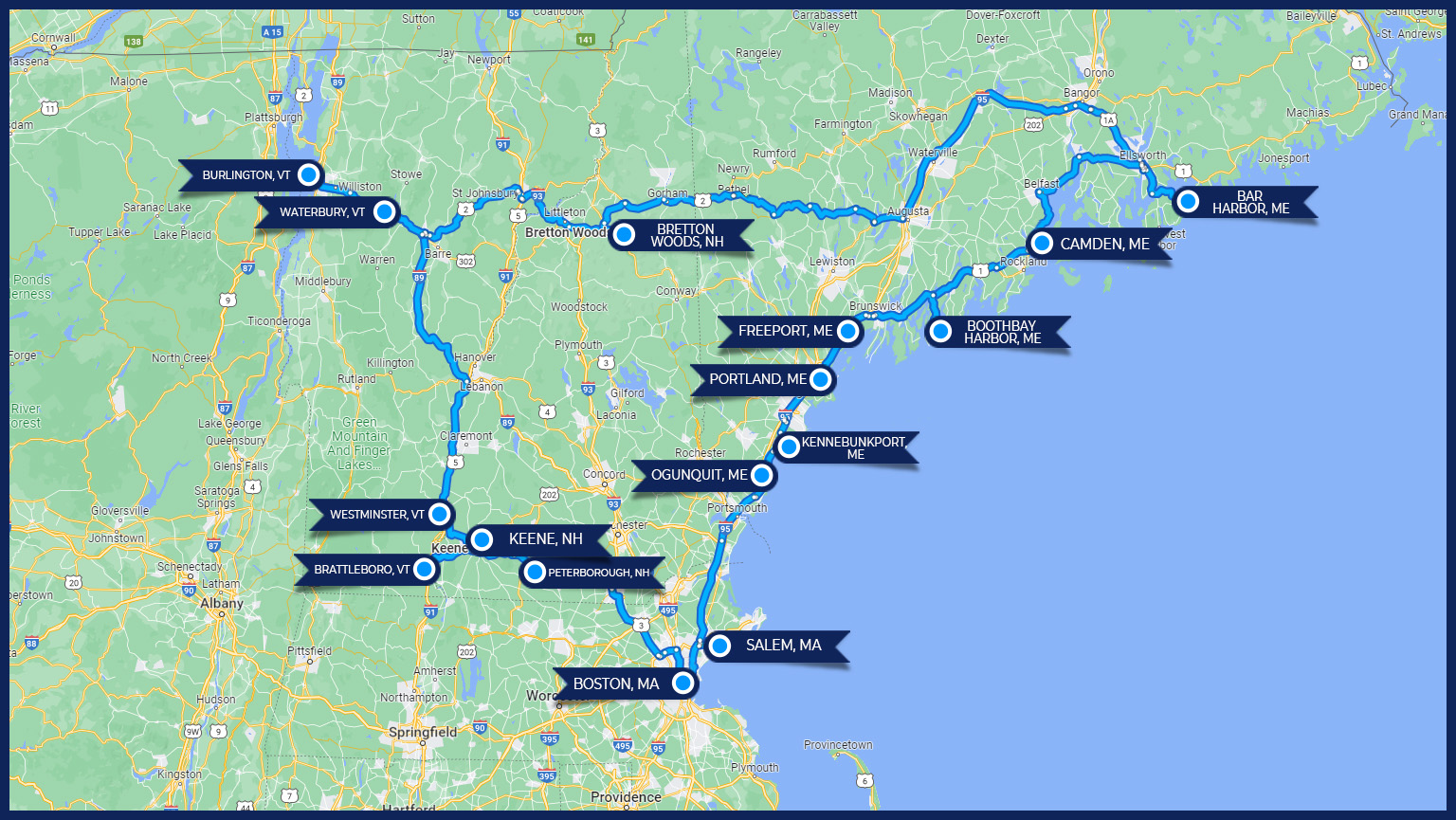 Brief Bio of the Choir
The Sanctuary Choir is the primary worship service choir for First Baptist Church, Easley, SC. Our choir is comprised of adults and college students who are members of the church or attend First Baptist Church.
Under the direction of Rick Baumgarner, the choir has shared the love of Christ through choral music of all styles for the past 41 years. In addition to singing regularly in worship services at First Baptist Church, The Sanctuary Choir has also participated in regional choral festivals, shared in local ecumenical worship services, and served local nursing homes, hospices, and hospitals. The choir has sung under the direction of nationally acclaimed choral directors Mack Wilberg, Milburn Price, Greg Fuller, Bingham Vick, Alan Raines, and Jennaya Robison. The choir has toured internationally twice: England and Scotland (1987) and Germany and Austria (1999). This concert tour to New England is our first domestic choir tour.
The choir is led by director, Rev. Rick Baumgarner. He is a graduate of Furman University (Greenville, SC) and The Southern Baptist Theological Seminary (Louisville, KY). Rick Roe, choir accompanist, has played for The Sanctuary Choir for 36 years. He is a graduate of North Greenville University (Greenville, SC) and Carson-Newman University (Jefferson City, TN).
Description of the Tour
This year's tour gives us a chance to share the love of God in New England. Our theme is To Love Our God. We are praying that we may be able to give new purpose to the lives of those we encounter along the way. Our theme song, To Love Our God, says, "To love our God, the reason we live; To love our God, the highest call. Nothing satisfies our soul, gives life meaning, makes us whole, For this purpose we were made. To love our God."
We fly to Boston on Saturday and sing in 2 churches on Sunday morning: St. Leonard's Catholic Church and Old North Church. After enjoying Boston for a couple of days, we travel northwest towards Burlington, VT. We've chosen a particularly beautiful route, enjoying small New England towns along the way. On Thursday we travel east to Bar Harbor, ME. We spend several days along the coast of Maine as we make our way back to Boston and Salem, MA. On our final night, many of us will enjoy a Red Sox game at Fenway Park.
Synopsis of the Musical Program
Using choral music that the choir has enjoyed for some time, we have divided the program into 3 sections:
Recognizing God's love
Finding Peace in the Struggle
Tracing God's Hand
In addition to the choral music presented, Rick Roe and Brett Levi have prepared several piano duets which will be shared during worship.
The anthem which inspired our tour says, "To love our God, the reason we live." Scripture says that "we love God because He first loved us." That beautiful relationship was marred by arrogance, willfulness, and pride - we call that sin. Sin is anything that hurts the heart of God and separates us from Him. Sin, the great chasm or divide between humanity and God, was not in God's plan from the beginning. God's word reminds us: "But your sinful acts have alienated you from your God; your sins have caused Him to reject you and not listen to your prayers." (Isaiah 59:2); "But God demonstrates His own love for us, in that while we were still sinners, Christ died for us." (Romans 5:8) Through His son, Jesus Christ, God bridged that chasm once and for all. Our theme song says, "nothing satisfies the soul, gives life meaning, makes us whole, for this purpose we made to love our God." We hope to be a channel through which individuals may find their purpose in loving Christ.
List of Tour Songs
"I Sing Because I'm Happy" (Kenneth Paden)
"O Love" (Elaine Hagenberg)
"Yes, My Jesus Loves Me" (Mary McDonald)
"O the Deep, Deep Love of Jesus (4-hand piano; Mark Hayes)
"My Shepherd Will Supply My Need" (Mack Wilberg)
"I Must Tell Jesus" (Mary McDonald)
"Come to Me" (Dan Forrest)
"Steal Away" (4-hand piano; Lloyd Larson)
"Like a River in My Soul" (Tim Osiek)
"I Will Rise" (Craig Courtney & Lynda Hasseler)
"I'll Fly Away" (Craig Courtney)
"Blessing" (Heather Sorenson)
"Let Everything That Hath Breath" (Jeffery L. Ames)
"Be Thou My Vision" (Sorenson)
"Since Jesus Came Into My Heart (4-hand piano; Mark Hayes)
"To Love Our God" (Mark Hayes)
"An Expression of God" (David Schwoebel)
"The Lord Bless You" (E. Fred Morris)
Daily Devotions
Churches/Venues Where We Will Be Singing
Sunday, June 12

St. Leonard's Catholic Church – Boston, MA (9:00 a.m.)
Old North Church – Boston, MA (11:00 a.m.)

Tuesday, June 14

United Church of Christ in Keene – Keene, NH (7:00 p.m.)

Wednesday, June 15

Kurn Hattin Home for Children – Westminster, VT (9:30 a.m.)

Thursday, June 16

Chittenden Regional Correctional Facility – South Burlington, VT (10:00 a.m.)

Sunday, June 19

Cathedral of St. Luke – Portland, MD (10:00 a.m.)
Tabernacle Congregational Church – Salme, MA (7:00 p.m.)
Related Websites
Rick's Blog
Click here to follow along with us!
Check out photos and videos of the tour day by day!
Day 1 - Saturday, June 11th
Day 2 - Sunday, June 12th
Day 3 - Monday, June 13th
Day 4 - Tuesday, June 14th
Day 5 - Wednesday, June 15th
Day 6 - Thursday, June 16th
Day 7 - Friday, June 17th
Day 8 - Saturday, June 18th
Day 9 - Sunday, June 19th
Day 10 - Monday, June 20th
Day 11 - Tuesday, June 21st